If you want to start a small laser engraving business, the xTool P2 is the one and only machine you'll need. It can engrave and slice a wide assortment of materials with the kind of speed and quality you simply can not find with a diode laser. The P2 is a deluxe machine packed with premium features and at $4999, may not be in the budget for the average hobbyist. It comes fully enclosed with a powerful 55 watt CO2 laser, camera for remote positioning, air assist, exhaust fan, and metal grill for elevating projects off the base. The lid locks for extra safety and pushing the release button will automatically stop the laser.
xTool is calling this a "desktop" machine, which is technically accurate if you're the Incredible Hulk. This beast weighs 99 pounds, takes up 39 inches of counter space and took two men to hoist into my studio. 
Unleashing this machine's full potential requires a large space where you can set the laser on a stand in the middle of a room. Adding the optional Automatic Conveyor Feeder will let you engrave signs up to 9 feet long and 23 inches wide, which requires feeding material through the machine front to back. A rise baser (also extra) will let you work on items more than 8 inches thick.
xTool offers plenty of support for makers wanting to spin their hobby into a business. Its website has a fully stocked shop of unbranded materials to engrave, plus ideas and tutorials to inspire you. Though you could source materials yourself, everything that xTool sells has a preset profile in the laser's custom software to make engraving and cutting effortless. The xTool P2 is one of the best lasers we've seen for crafting a small business.
Swipe to scroll horizontally
| | |
| --- | --- |
| Machine Footprint | 1000 x 639 x 268mm (39.4 x 25.1 x 10.6 inches) |
| Engraving Size | 600 x 308mm (23.6 x 12.1 inches) |
| Material | Cardboard, wood, bamboo, rubber, leather, stone, metal, glass, any acrylic |
| Laser Type | CO2  |
| Laser Power | 55W |
| Laser Wave Length | 10649 nm |
| Engraving Accuracy | 0.15 x 0.2mm |
| Cutting Platform | Metal slats and baseplate included |
| Connectivity | USB, Wi-Fi, Ethernet |
| Interface | One Button |
The P2 CO2 laser basic kit  includes a fully assembled laser, screwdriver, slats, small material clamps, hose for the air duct, antifreeze, funnel and samples of wood and acrylic to engrave. Free software is available online to create artwork to burn and fully operate the machine. 
We also received the riser kit, air purifier, fire safety kit and more materials to engrave.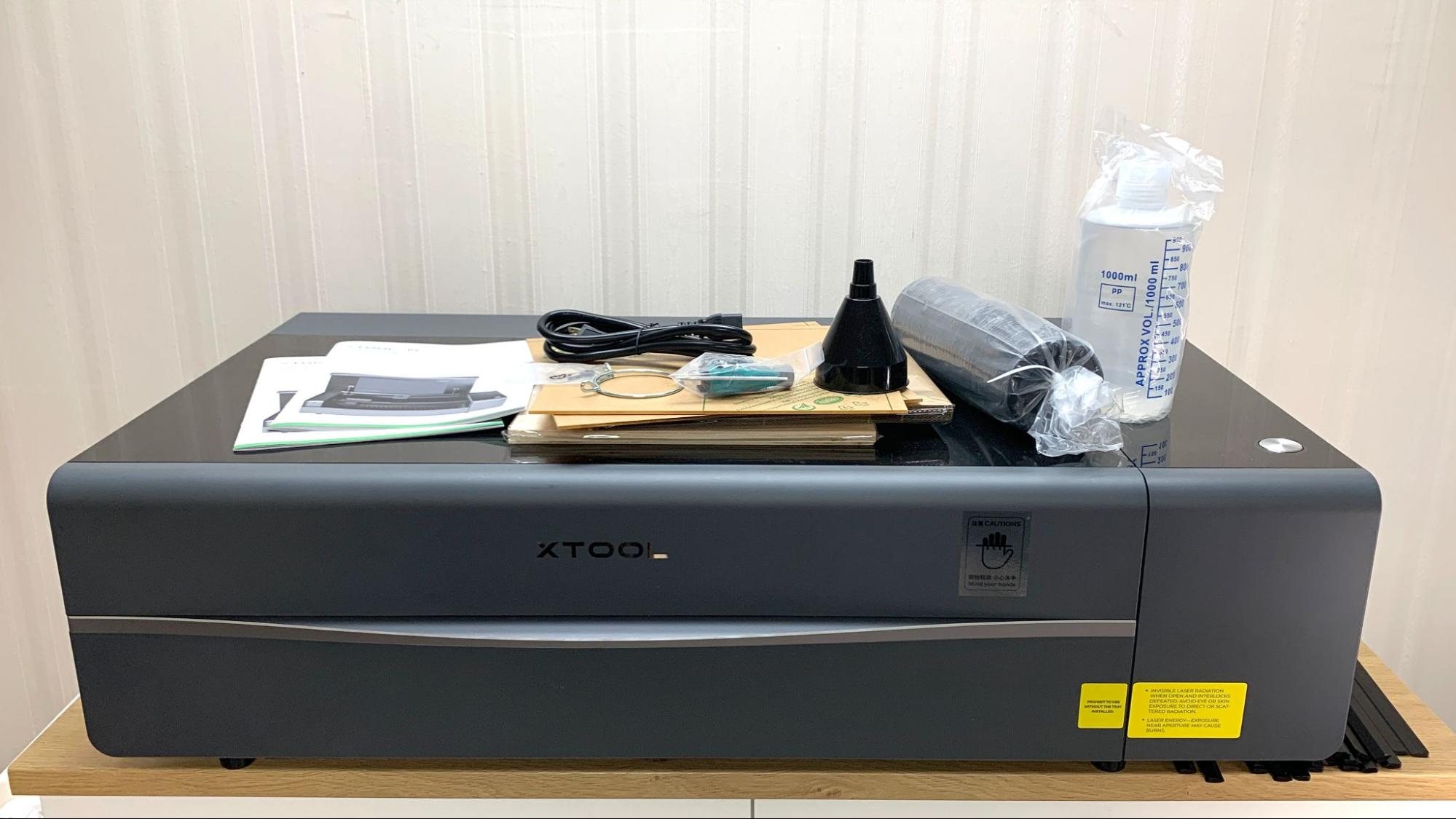 The P2 is fully enclosed and looks like a large aluminum cabinet with a tinted glass top. A small screen is under the glass and shows a progress bar, along with a lock indicator and glowing icon to show if it's connected to the internet. There is a single button for the operator. 
The lid has hydraulic hinges and opens with no effort. The interior is black on black, and neatly organized. The laser's wiring is tucked inside an industrial strength cable chain.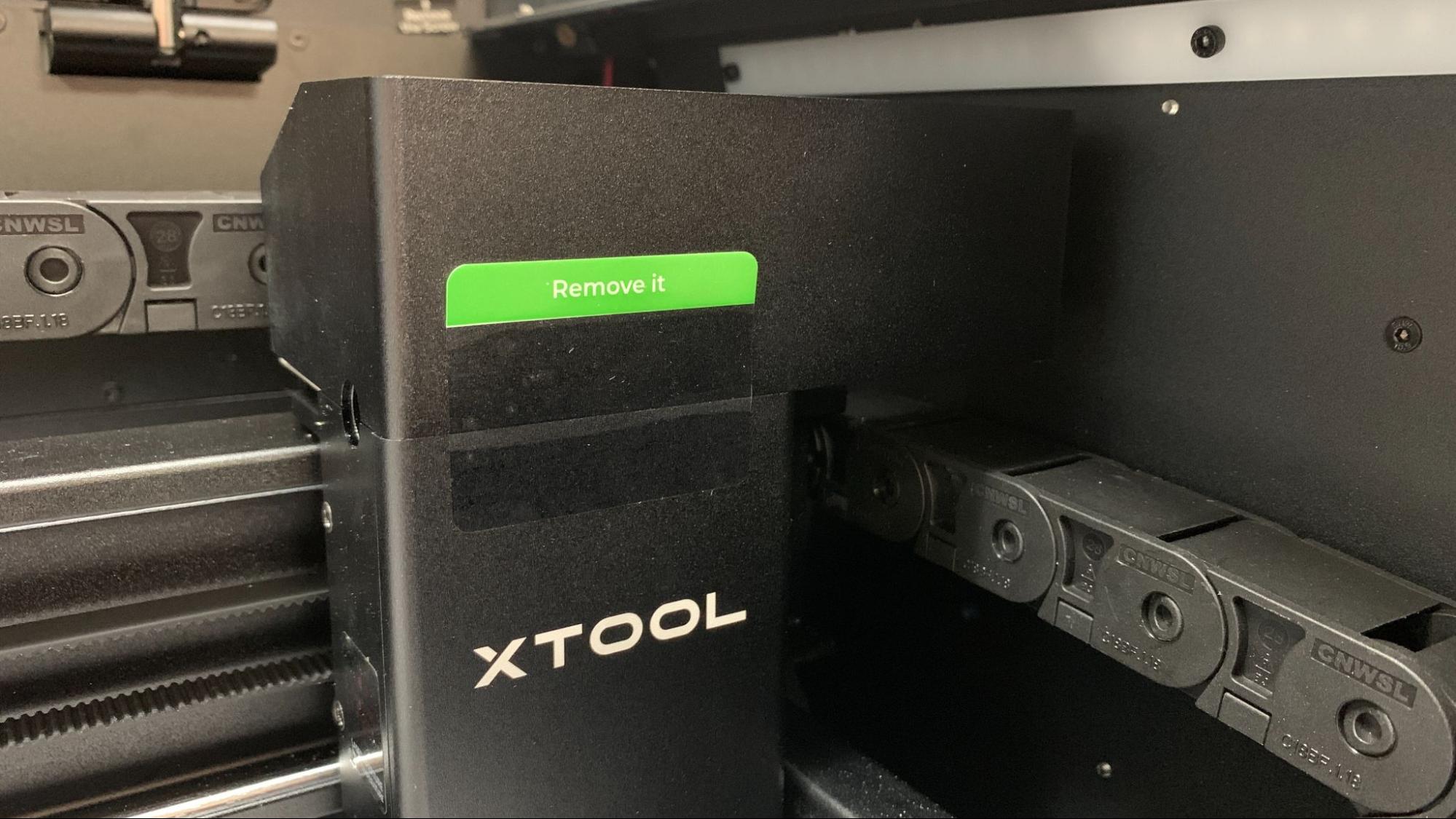 The laser only operates when the lid is locked, and is completely shielded from view. There are air vents on the bottom of the cabinet, so I would still use caution and not allow pets or small children around the laser while it's operational. The air vents point directly down, and are hard to spot from the outside, unless you're sitting underneath the machine.
The P2 has two built-in 16MP cameras. One is mounted to the top of the case's interior and captures a wide angle view of the entire work area. A second camera handles detailed positioning and is mounted on the tool head. Both of these cameras only display stills and are used to position designs with a .3mm accuracy. 
The P2 has a very finely focused .01 beam for thin, detailed lines. The powerful 55 watt CO2 laser combined with a print speed of 600mm/s can cut and engrave even faster than the xTool's D1 diode laser we have previously reviewed. Much of this speed is thanks to the properties of the C02 laser, which has a higher wavelength that's better absorbed by most materials. It slices through wood like butter, carves up any color of acrylic, and etches uncoated glass and metal.
It comes with built-in air assist to prevent your materials from charring while also keeping the smoke from coating the laser lens. The results are clean engraving with very little discoloration. It also has a powerful cabin fan to remove smoke through a hose you can run out your window or exterior door, or feed into an optional air purifier. We tested the air purifier and could barely smell the wood burning and saw no smoke at all. Though at $1000 retail (currently on sale for $700), if you can reach an exterior door with your hose, that might be a more fiscally responsible option.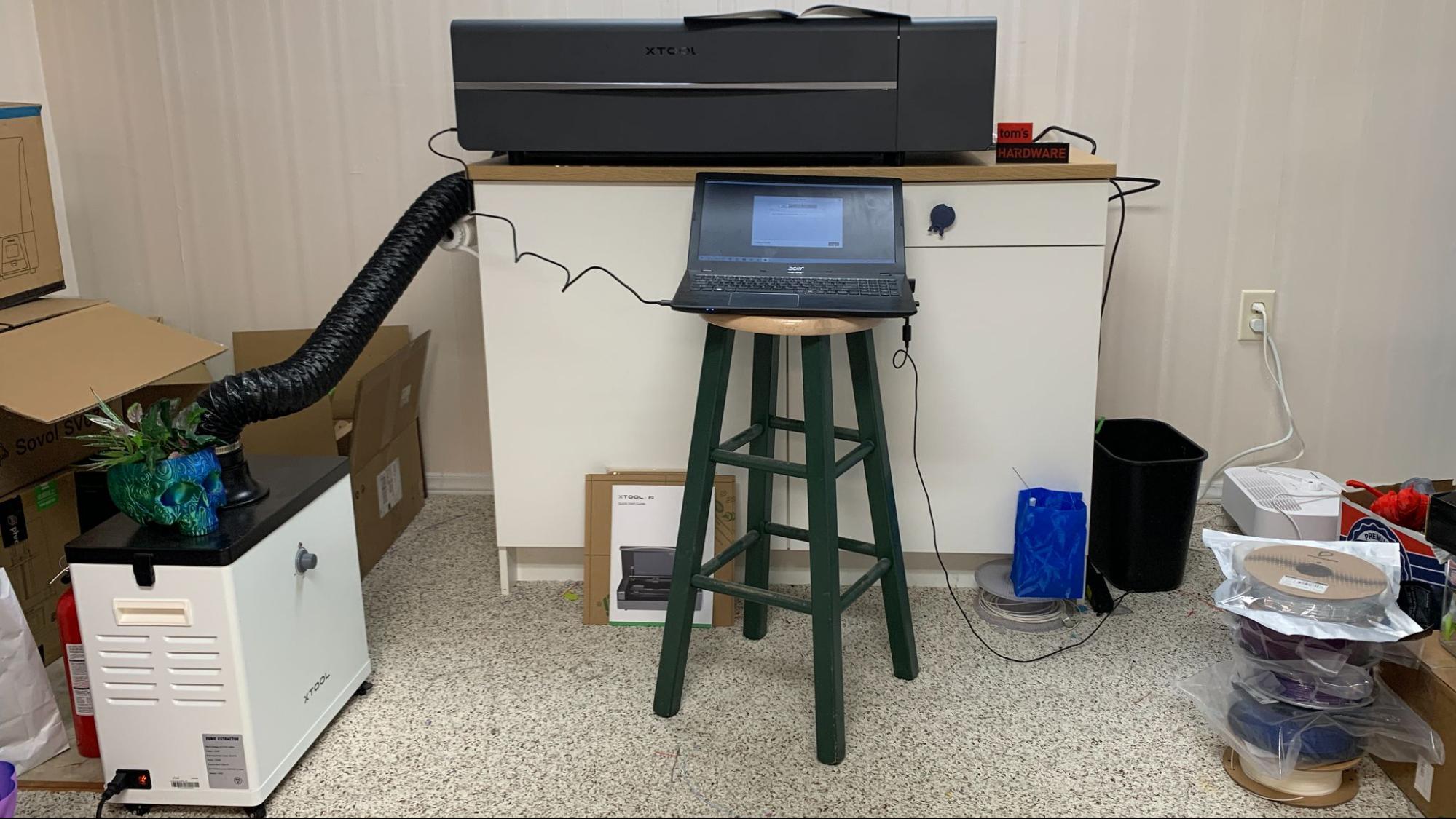 The P2 requires a separate computer to operate – ideally a laptop as the first connection must be made with the USB cord. You can later connect over WiFi or Ethernet to your local network. I used WiFi and operated the laser from a desktop PC. There's a start button on the machine to prevent unattended operation, so you'll still need to stay in the area.  
The machine is able to focus itself automatically using the height of the material you provide in the software. If you don't have calipers handy, it can also use the cameras to take a rather precise measurement. 
The machine has a roomy interior space for lasering and works well without any of the optional accessories. My only complaint is the sheer size of this unit, which took up an entire 42-inch kitchen counter without leaving enough room to place my laptop. Thankfully, I only needed the laptop for the initial handshake and after that was able to run it from my desk. If you want to use the pass-through doors, you'll need to have the machine on a sturdy freestanding table with open access to the front and back of the machine. I was not able to access this function until I banished it to the garage. 
You'll also need access to all four sides for plugs, hoses and access to compartments. The power cord and switch are on the back right, the emergency button on the right side, the air duct and USB/Ethernet ports are on the left. The fire safety kit (optional) plugs in behind. The CO2 tube is also in the back, though you only need to access that to check the cooling fluids.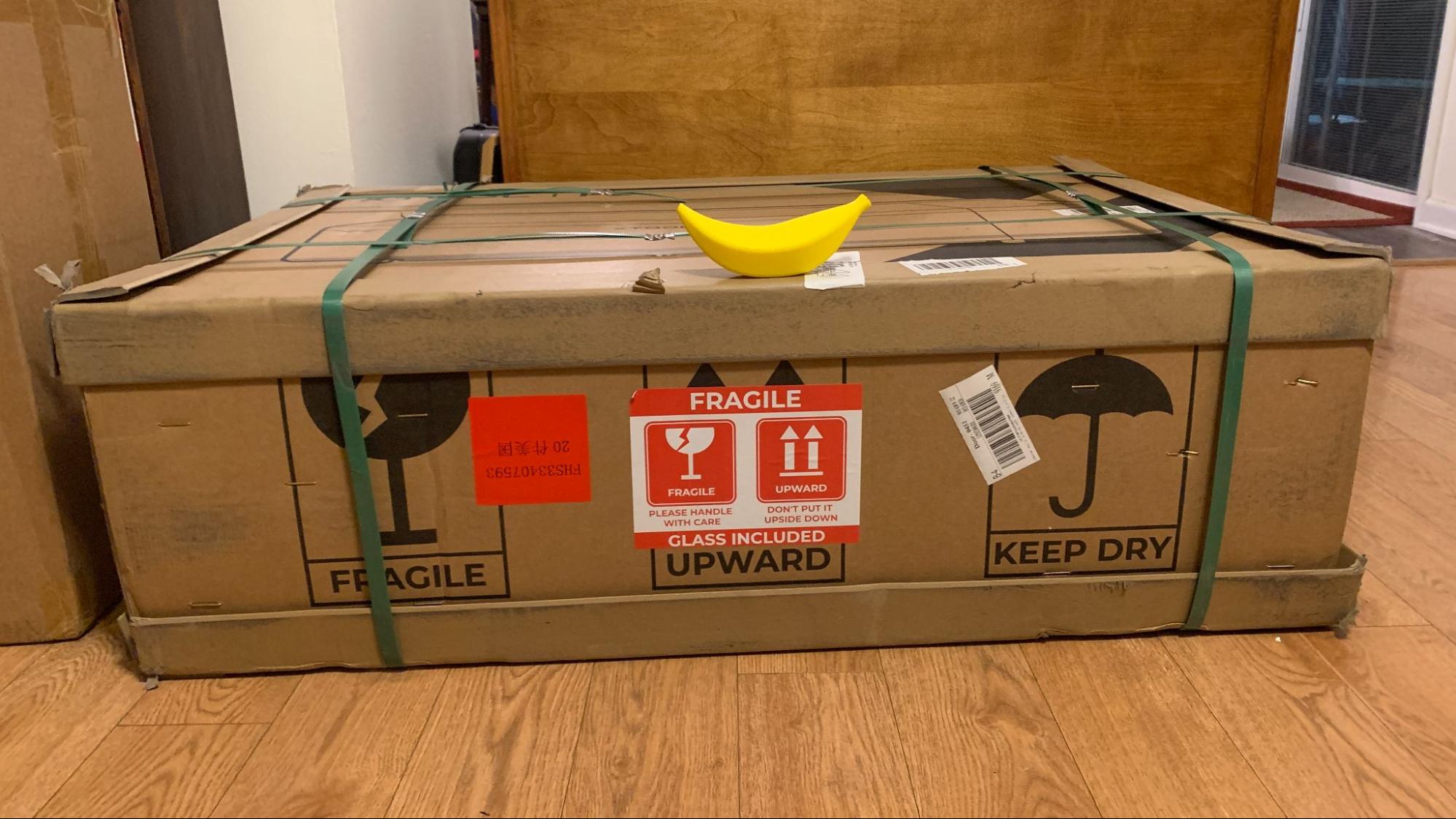 The xTool P2 arrives fully assembled in a giant box. I didn't get the shipping weight, but as the machine itself is 99 pounds, it's a good bit more with all the packing materials. Thankfully, I was able to greet our delivery guy at the garage door and push it inside. This laser is more akin to moving a couch than any other piece of machinery I've used. You will need help to get it in place. In fact, it took three people to get it on the optional riser.   
It doesn't need to be assembled, but you will need to remove some padding, protective stickers and then a handful of screws to get at the laser tube. The setup directions ask you to inspect it fully before filling the machine with antifreeze diluted with purified water. The antifreeze is provided, so you only need to find the water and mix it. 
The P2 comes with a full color magazine style manual to help you get the machine set up. There's also a video on their website if you need extra help. The company's support center also has lots of articles and videos to help you learn how to use your laser.
The xTool P2 is a Class 4 laser that can damage your eyes and burn skin. It also produces smoke and fumes while engraving or cutting materials. You must take precautions to operate the machine safely. Use this and any other laser at your own risk.
The P2 is fully enclosed with a shielded window in the lid, which locks while in use. However, there's a vent on the bottom of the machine between the base plate and your table. Because of this gap you should not allow small children or pets who might be short enough to look up into the machine while it is in operation. xTool does not find this gap dangerous to adult users and does not provide goggles for extra protection.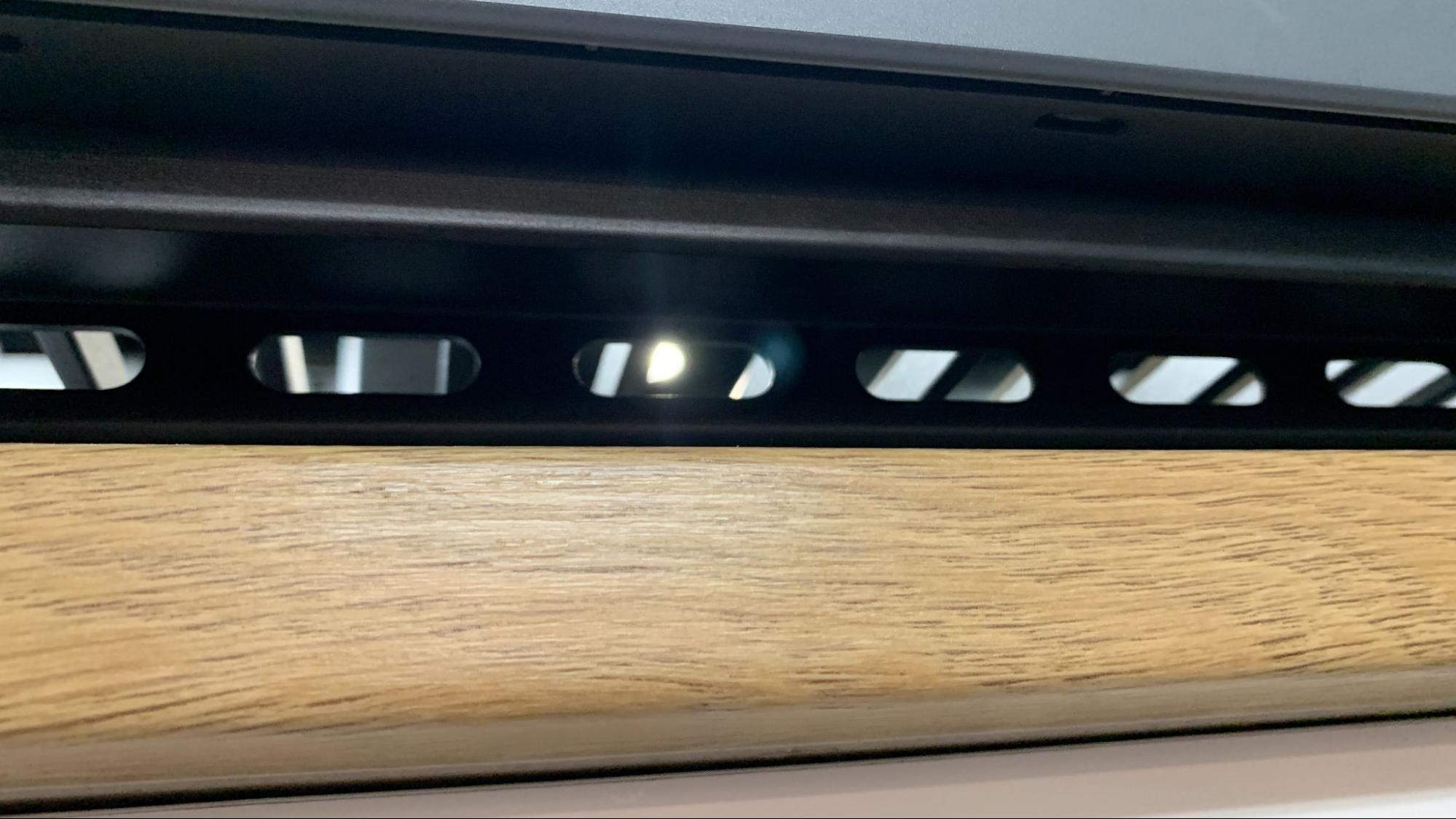 The gap is covered when placed on the optional riser base.
Since the laser is literally burning material, never allow it to operate unattended, and have a fire extinguisher handy just in case. An optional fire safety kit can be purchased for $169, which includes sensors to detect flames, bottles of CO2 gas to extinguish them, and a smart plug to shut off power to the laser. This system is independent of the P2 and works with any enclosed laser, including those from other brands.
Some materials should not be burned with a laser due to their chemical makeup – they could melt, catch fire or produce toxic fumes. Dallas Maker Space has published a list of safe and hazardous materials to use with their laser. The list of no-nos includes plastics, fiberglass, and certain foams.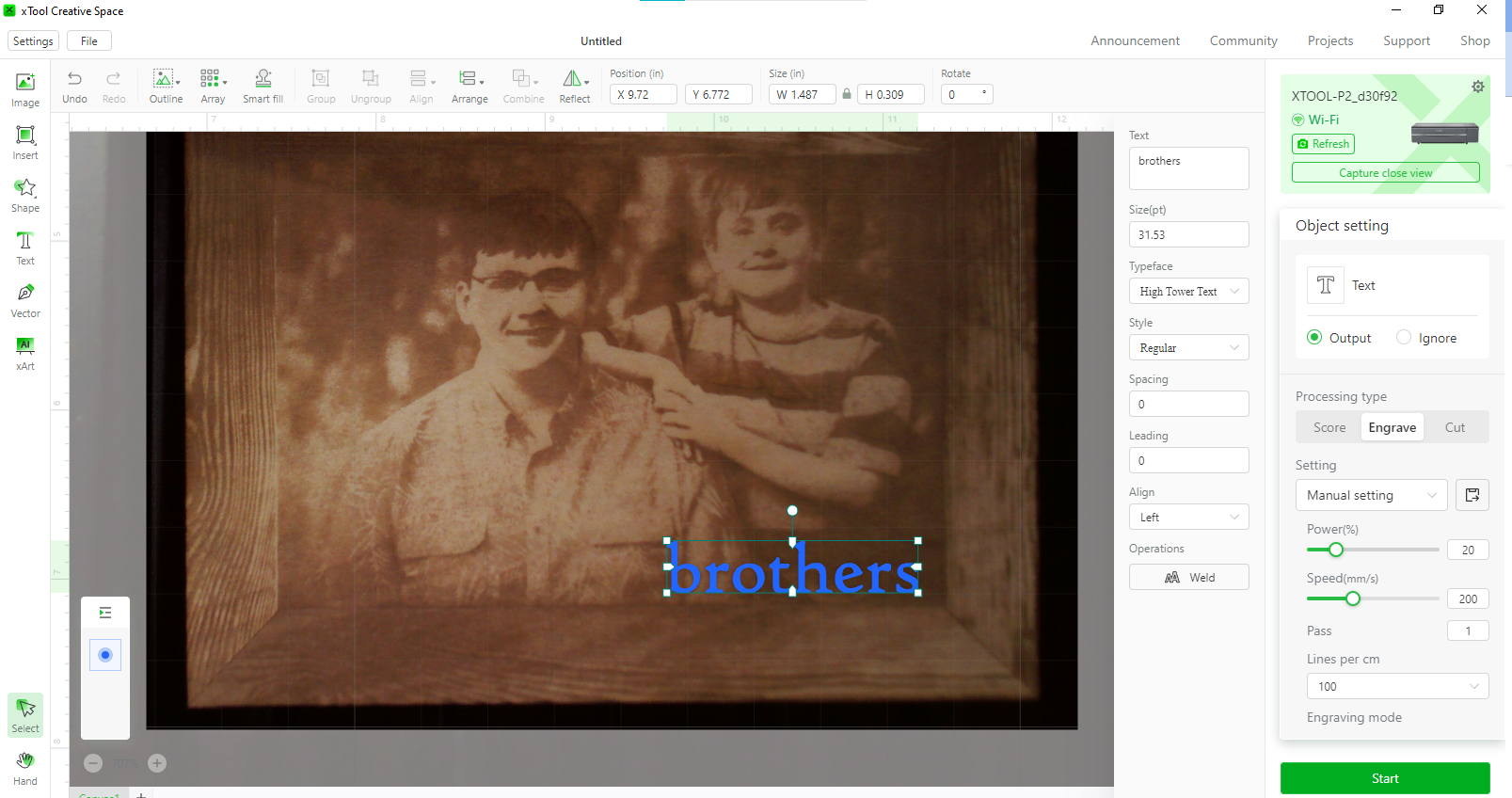 xTool provides free software – xTool Creative Space – you can download from their website to design projects and operate the laser. The program operates on Windows, Mac, MacOS and iOS. 
This software is easy to operate and has everything a beginner needs. It's also tuned to work specifically for your laser – you must link the laser to the software – and has many helpful presets for materials sold by xTool. You can draw shapes, vector lines and add text with XCS. Best of all, the software understands JPGs so you can import photos and clipart without trouble. 
The presets are specifically labels by thickness and material type which can give you a jumping off point for items you've sourced yourself. The P2 is also compatible with LightBurn, a premium laser program, for advanced users.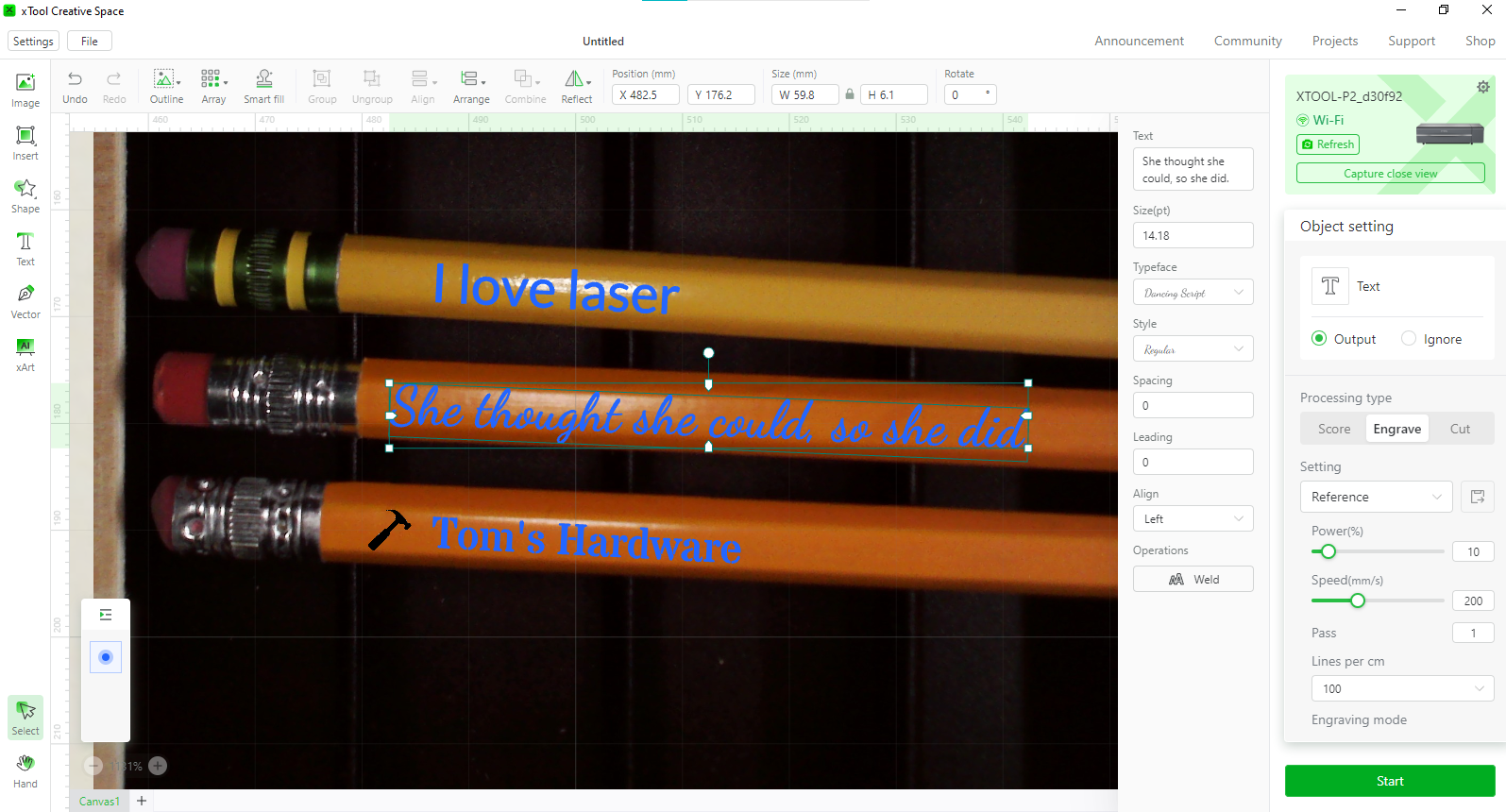 The ability to cut or engrave materials is determined by the speed and power settings of the laser. The P2 is a high power, 55 watt laser, and cuts through most wood up to 18mm, and acrylic up to 12mm with ease. xTool's software includes preset starting points for all the materials the machine can handle. You'll still want to run a test, but I found the presets spot on, especially when using materials purchased from xTool's shop.
The xTool P2 can handle a wide variety of projects and I tested the most popular materials – wood, acrylic and metal. 
The P2 has two cameras to help line up your project, which makes it very simple to use. It can position the laser with extreme accuracy, which allowed me to re-cut projects to correct mistakes, like cropping an image I'd already lasered or removing an image from a frame.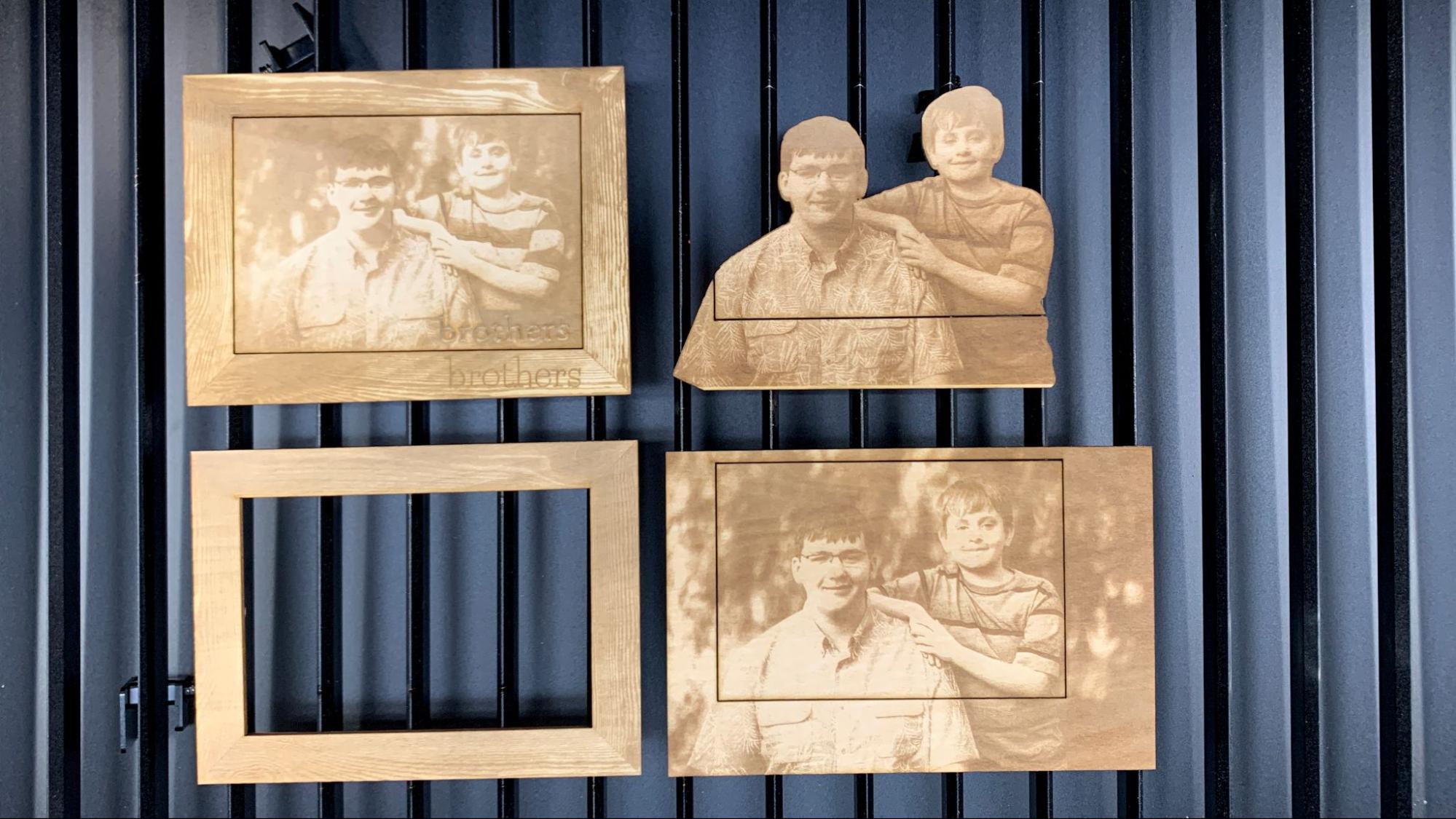 A complete list of materials and suggested settings is located at xTool's website. These settings also correspond to materials the company sells on its website.
The first thing I tested was the light basswood provided by xTool. I followed a simple tutorial in xTool Creative Space on selecting a shape and cutting it from the 3mm wood. This cut came out perfectly clean and dropped from the board on its own. The laser ran at 100% power with a speed of 30mm/s and took about 12 minutes to cut.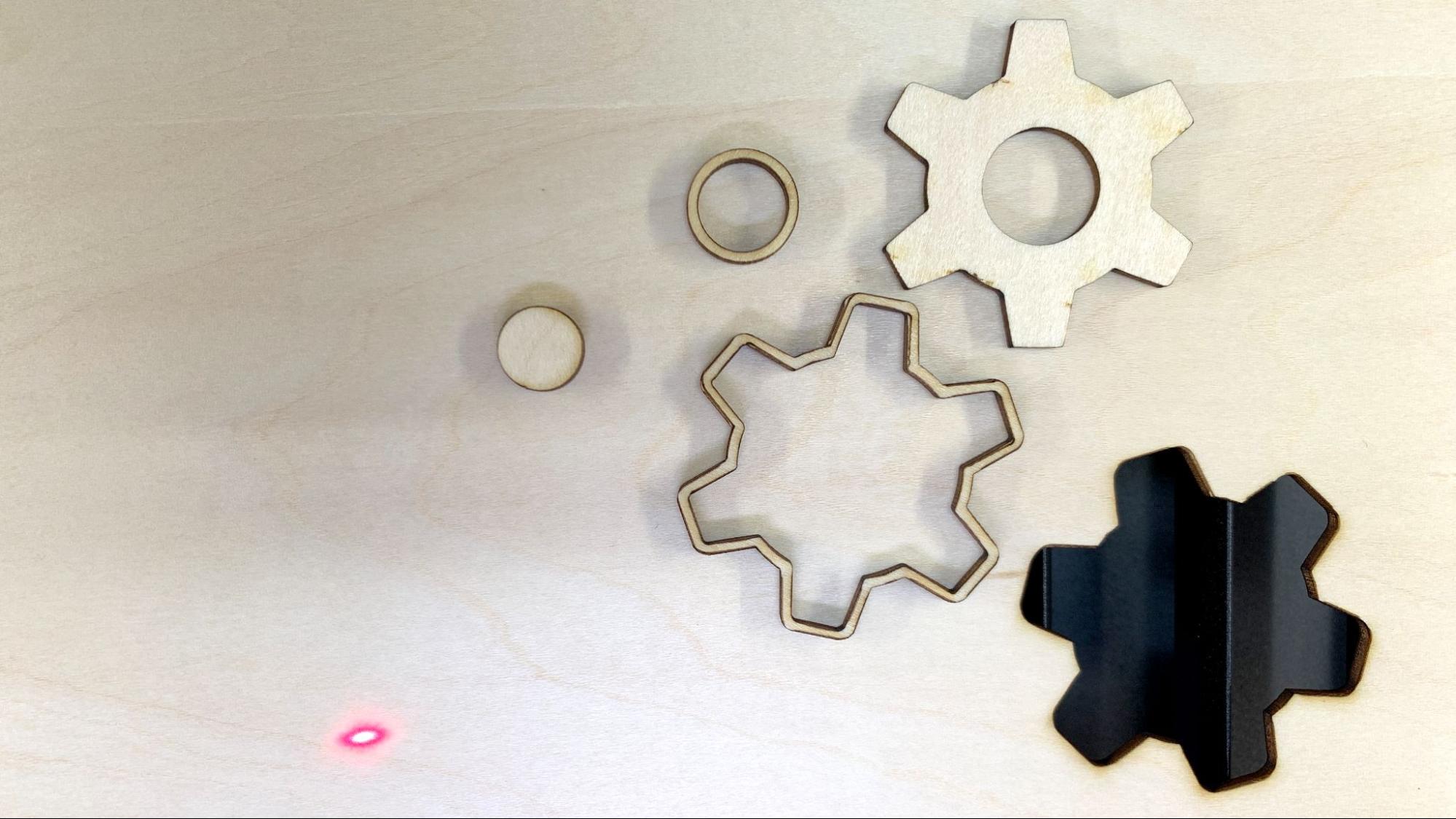 I also etched a photograph of my boys, this time using a sheet of 3mm bass wood I picked up at Micro Center. The wood was slightly warped, so I used the supplied spring clips to hold it down to the metal slats. Photographs can be difficult to translate into laser art, but the P2 did a wonderful job, and I was able to convert the color image into grayscale inside xTool Creative Space. The default settings were excellent, though I did try out a few other modes. The frame around this picture is from clip art, the text was set inside the xTool software.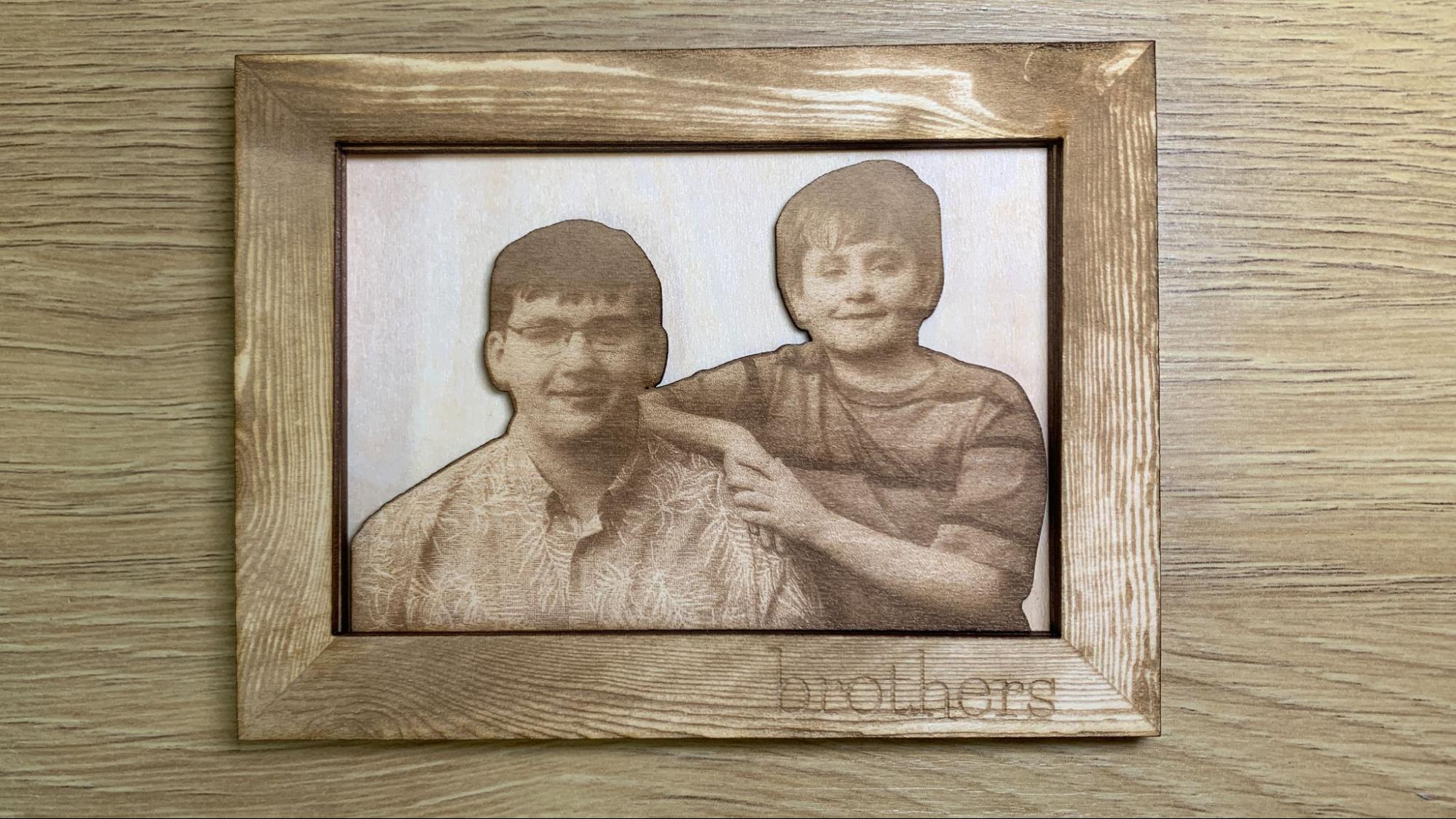 To really test the P2's ability to engrave small items precisely, I lasered a few pencils from my junk drawer. XCS was able to pull from my computer's collection of fonts so I was able to set the entire design within xTool.  The pencils were tossed into the laser and not taped or clamped. I measured the pencils using the xTool's camera, and used the default setting for pine. The results are amazing and took less than 5 minutes to burn.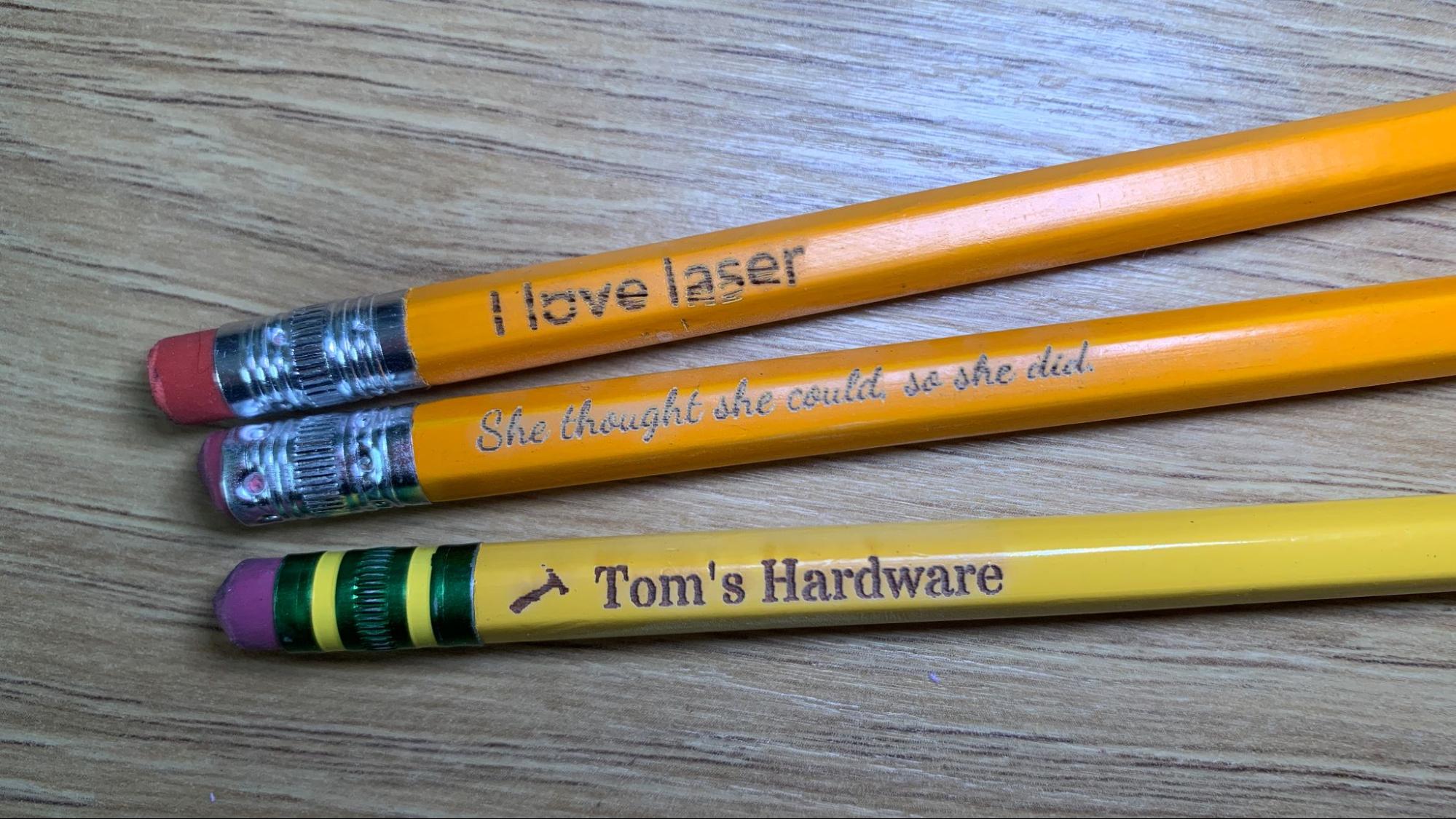 The xTool P2 can engrave and slice any color of acrylic thanks to its high frequency CO2 laser. It sliced through clear acrylic like butter, and with a speed of 20 mm/s only took about 5 minutes to knock out this star with a single pass. The edges are perfectly clean.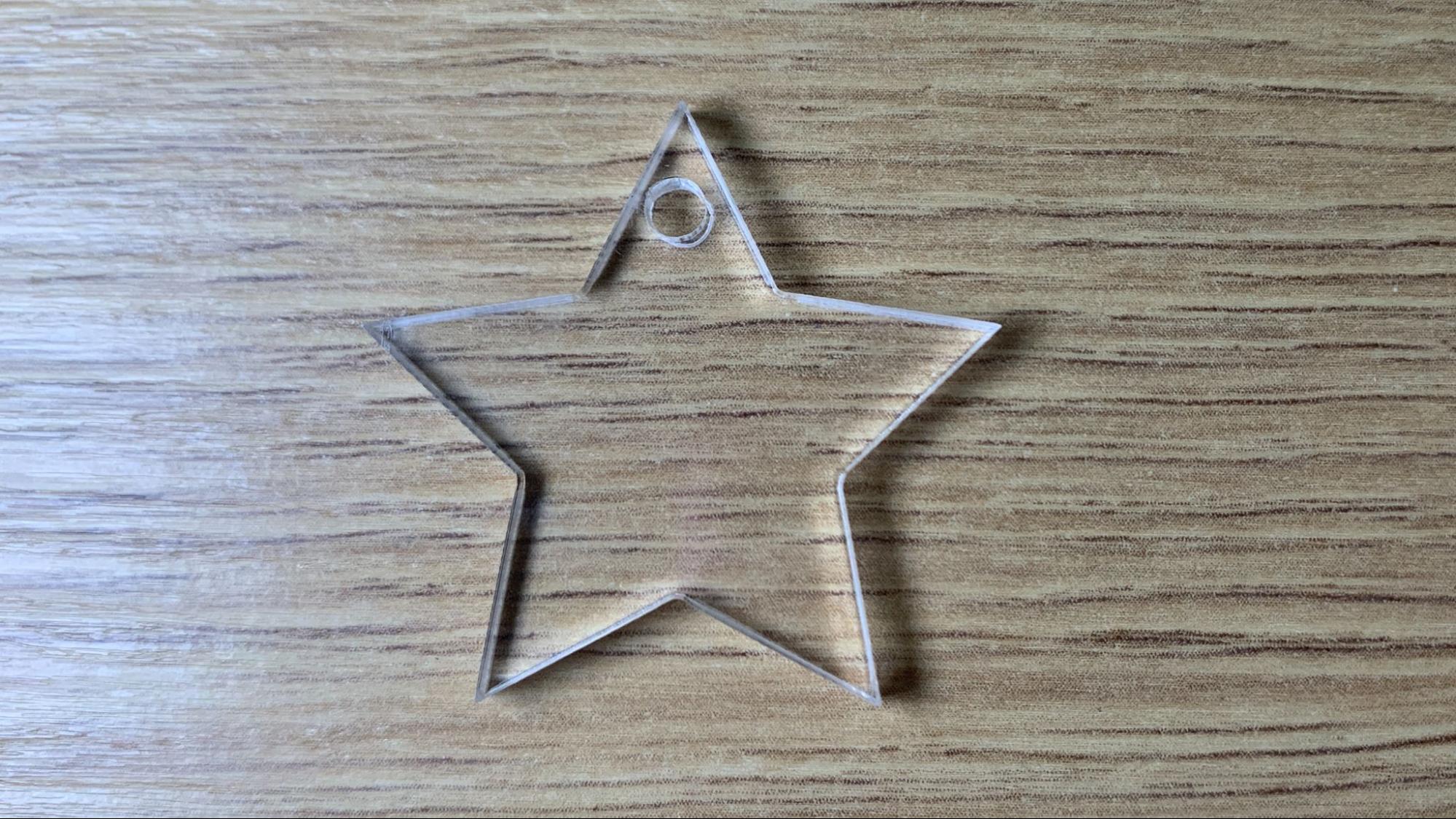 Coated metal is also easy to cut with the P2. It took about 6 minutes to etch my business card onto a thin metal blank. Because the cards are only a millimeter thick, I had to tape it to a board to prevent the air assist from moving the card and warping the image. This was typed in Canva and brought over as a PNG file, and would probably be a little crisper if I had typed it directly in xTool's software. It still looks pretty good, and best of all, the QR code leading to my website works.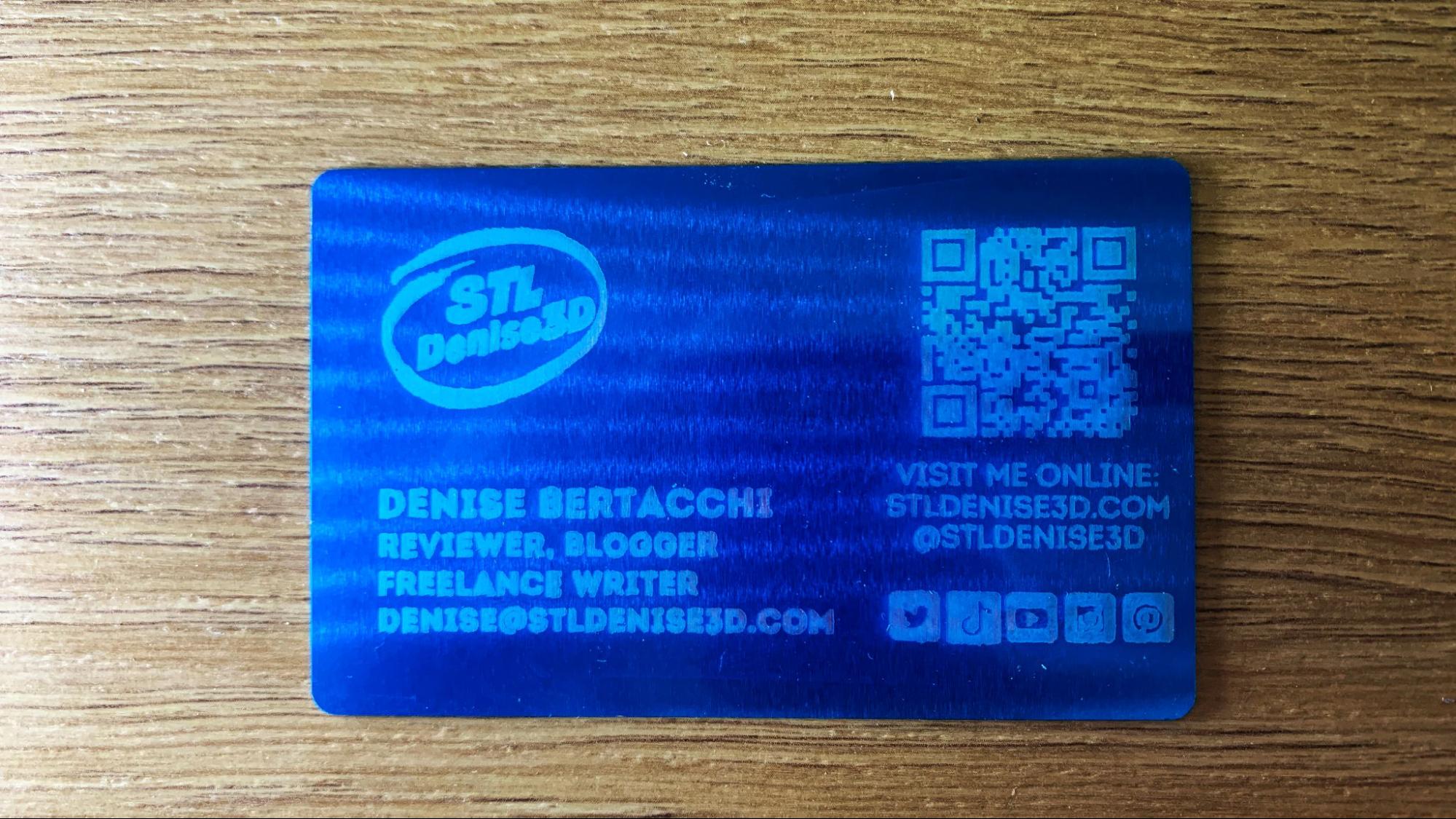 Bottom Line
The xTool P2 is a remarkable CO2 laser with a lot of built-in features that would make running a small crafting business easy. Retailing at $4999 (and currently on sale for $4599) it's a bit of an investment compared to hobby level machines, but well worth it for the extra speed, work space and safety features. I wasted no time fussing over placement of my materials, and didn't need to line up anything straight. Everything was perfectly aligned from my desktop computer in the next room.
The laser is simple enough for a beginner to use, which allows you to spend more time on your artistic creations or handling business details. The P2 can cut through wood up to 18 mm thick and engrave wood, card stock, leather, acrylic, metal and more. The pass through allows you to make huge signs, and the riser lets you engrave larger completed projects, placing few limits on your imagination.
It does require a rather large dedicated space, and you'll certainly need some help getting it unpacked. The included antifreeze means you can safely keep this machine in your garage and the optional air purifier makes running it inside your home or shop an option as well.   
If you're not ready to invest in a professional grade machine, check out the smaller xTool D1 Pro diode laser which is on sale for $1169, and can easily level up your Etsy game. If you're just dipping your toe in the lasering pond, the 10 watt Creality CR-Laser Falcon can give you a good start for only $439.
#xTool #Review #Premium #CO2 #Laser #Small #Business