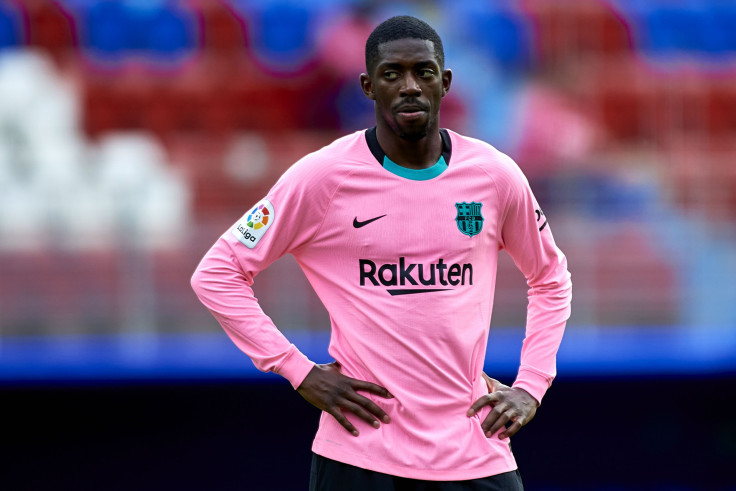 FC Barcelona boss Xavi Hernandez is "hurt" after it was confirmed that Ousmane Dembele has decided to leave for Paris Saint-Germain (PSG) this summer. Dembele, who still had a year left on his current contract with Barcelona, is going to join the Ligue 1 champions, Xavi has confirmed.
Xavi: We took great care of Dembele
Barcelona and PSG are still in talks over Dembele's transfer fee, which is expected to be around £43 million (€50 million) and the transfer is likely to be completed in the coming days, reported ESPN.
"He says that he has this proposal and that he has decided to leave. It is his personal decision. I will be very clear. He has been very direct, that he has a proposal from Paris St-Germain, that they have called him from there and here we cannot do anything. That is why he has not played today," Xavi said, reported BBC Sport.
Adding further, Xavi said, "It hurts me because I think we have taken great care of him here so that he is happy and content and continues to make a difference for us."
Dembele is with the Barcelona squad on their pre-season tour of the US. On Tuesday, Xavi did not include Dembele in Barca's final fixture of the tour which ended in a 1-0 victory over AC Milan.
Despite not being involved in the match against the Serie A club, Dembele was spotted at Allegiant Stadium in Las Vegas and appeared to be relaxed as he chatted with his teammates, most notably Ansu Fati, before kick-off. Earlier in the morning, the French forward was seen training with the rest of the side and had been seen laughing and joking with Robert Lewandowski among others, according to Diario AS.
'Barca cannot match PSG's offer for Dembele'
Meanwhile, Xavi also revealed that Barcelona have no option but to let Dembele go as they cannot compete with PSG's offer.
"There was no way to convince him [Dembele], this is the final decision. PSG have made an offer that is completely out of the market. We cannot compete with it," added Xavi,
Dembele signed a new two-year contract last year after finishing the 2021-22 campaign with the most assists for Barcelona. The French forward made 13 assists, three more than second-best Jordi Alba, who earlier left the Catalan club and joined Lionel Messi at Inter Miami in Major League Soccer (MLS).
The two-year deal included a £43m (€50m) release clause that was valid until July 31. On Monday, the said clause doubled to £86m (€100m) after the initial agreement expired. However, with Dembele preferring the clubs to reach an agreement, Barcelona agreed to open talks with PSG.
Xavi: Dembele's departure will weaken Barca
Xavi, who was aware of Dembele's release clause, revealed that he along with Barca's sporting director Mateu Alemany had been working hard to ensure the France international stayed at Camp Nou. While they knew there was a chance Dembele would leave, Xavi did not expect it to happen.
"At the end of the day, it's a scenario we have prepared for and now we have to strengthen because it weakens us," said Xavi.
Dembele moved from Borussia Dortmund to Barcelona in 2017 at a transfer fee of £90m (€105m). He was the Blaugrana's third-most expensive signing after Philippe Coutinho and Antoine Griezmann.
Injuries have disrupted Dembele's run at Barcelona, restricting him to 185 appearances in all competitions. He scored 40 goals and made 43 assists in total across six seasons at Camp Nou.
Xavi is certainly right about Dembele's departure weakening his side. But Barcelona still have the prolific Robert Lewandowski in the front line along with young star Ansu Fati, who scored the winner against AC Milan in Las Vegas. Barcelona also have La Masia's promising graduate in Lamine Yamal, who made his senior debut last season but managed just one game.
Barcelona, meanwhile, will also be actively looking for a Dembele replacement in the coming weeks with the summer transfer window still underway.
#Ousmane #Dembeles #decision #join #PSG #hurts #great #care #Xavi